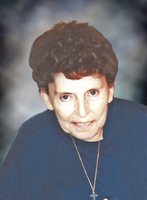 Margaret A. Daughters
Margaret Ann Daughters, the daughter of Leo and Edna (Lovette) Hagen, was born on July 2, 1944 at Huron, SD. She received her education near her childhood home, graduating from Huron High School. Margaret went on to earn her Bachelor's Degree from Huron College and taught elementary school for two years.
She was united in marriage to Roger Daughters in June of 1970, and to this union was born one daughter, Vanessa, in May of 1971. Margaret became a stay-at-home mother at this time, and also did daycare in their home for many years until failing health forced her retirement.
Left to cherish her memory are her daughter, Vanessa (Brett) Carda; her three grandchildren, Alexis, Devin, and Dylan, all of Sioux Falls, SD; one sister, Mary Lee Hagen of Centennial, CO; three brothers, Gary Hagen of Custer, SD, Robert Hagen of Henderson, NV, and John Hagen of Aloha, OR; other relatives and friends.
Margaret was preceded in death by her husband, Roger Daughters; and her parents, Leo and Edna Hagen.